RUTA I-9 Comes from the initiative of Quetzaltecos who love the city, its culture, history and traditions.
Do you know that Quetzaltenango has historically been a region of struggle, work and effort for the development and conservation of cultural and religious practices that have characterized it as "Mayan Culture alive"
Ruta I-9 has been carefully designed with the intention of encouraging the economic and tourist reactivation in Xela. We see the need to create open spaces where Quetzaltecos, local and international tourists can get to know the city in an interactive and safety way, meanwhile we can provide business opportunity for artisans, gastronomy and any other local enterprise that promotes "Vive Xela" as a tourist destination.
Part of the experience that can experience on Ruta I-9, either by bike or walking, is to go over the cobbled streets of Xela, passing in front of monuments and buildings that tell us the origin and history of a city that has passed through battles, political conflicts and many natural disasters; but it has also been resilient.
Ruta i-9 History center
Casa de la Cultura: As a starting point.
General Cemetery of Quetzaltenango: which tells us the extensive history of the mausoleums and emblematic characters that occupy them.
National Brewery: Pride of people from Quetzaltenango, that tells us the history and impact that European migration has had on our region.
Theater: Architectural building that inspire us on how important art and culture are today.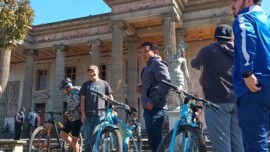 Iglesia San Juan De Dios: Reminds us of how present and influential religion has been, even in a mostly indigenous area.
INVO: Past generations will remind us how important and appreciated certain educational institutes were, and how essential quality, public and free education is in a country.
Transfiguration Church: Telling us the origin of this beautiful city with an impressive view of it.
Plazuela San Antonio: A charming place, but with many curious facts about Freemasonry that will motivate you to learn and investigate more.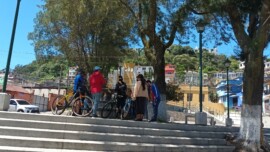 Parque a Centroamérica: To complete the Historic Center route, we will go for a bike ride, surrounding the park to admire emblematic buildings.
You can do Ruta I-9 by foot or biking; the experiences are different. When you walk, you have more time to see details on each building, enjoy the cobbled streets and even get to know the new cafes and restaurants that are on the route, where you could make a small stop to taste something. On the other hand, by cycling, the experience is connected to the adrenaline of this way of transportation.
Now that you know what Ruta I-9 is about, we invite you to join us on the scheduled tours that we will have every month, and we encourage you to take advantage of our streets; cycling is a way of development in a city. Be part of the change.
The level of difficulty cycling is low, as long as you have some experience riding the bike. Do not forget to always bring hydration and apply sunscreen.
I guess, now you are wondering, why I-9?
Well, I invite you to follow our social media to find out.